How to invite your own retailers (referral program)?
Inviting your existing retailers will simplify your business and accelerate your sales on Orderchamp. Also, it will boost your ranking on our platform to reach more new retailers.
The benefits for you:
You pay 0% commission on orders from all the invited retailers, signing up within 3 months of being invited by you. Otherwise, a discounted 6% commission to cover our operational costs

For orders from your invited retailers that were already registered to Orderchamp, or any of Orderchamp's partners, you will benefit from a discounted 6% commission

Boost your ranking on the marketplace, each time your invited retailers buy on Orderchamp

Offer 10% off for all orders in the first month (for all retailers from NL, DE, AT, and BE )
We cover your shipping fees and payment terms while handling the support of your retailers

We offer you guaranteed payment on delivery & frequent payouts
Here's how to start building your customer base using Orderchamp:
Invite via

the Orderchamp back office

Embed your

personal wholesale widget

on your website

Invite with your

personal invite link

Use your

personal promo code
1. Invite via the Orderchamp brand back office
You can invite your retailers through your back office by adding your customers' email addresses in one of three ways:
copy & paste all the email addresses manually
upload a CSV file
import your contacts by connecting your Gmail/Yahoo/Outlook.
If you have multiple storefronts, you have the option to select a storefront from which you want the emails to be sent from. We will send an email with the invitation to your invites and send reminders when invites are not accepted.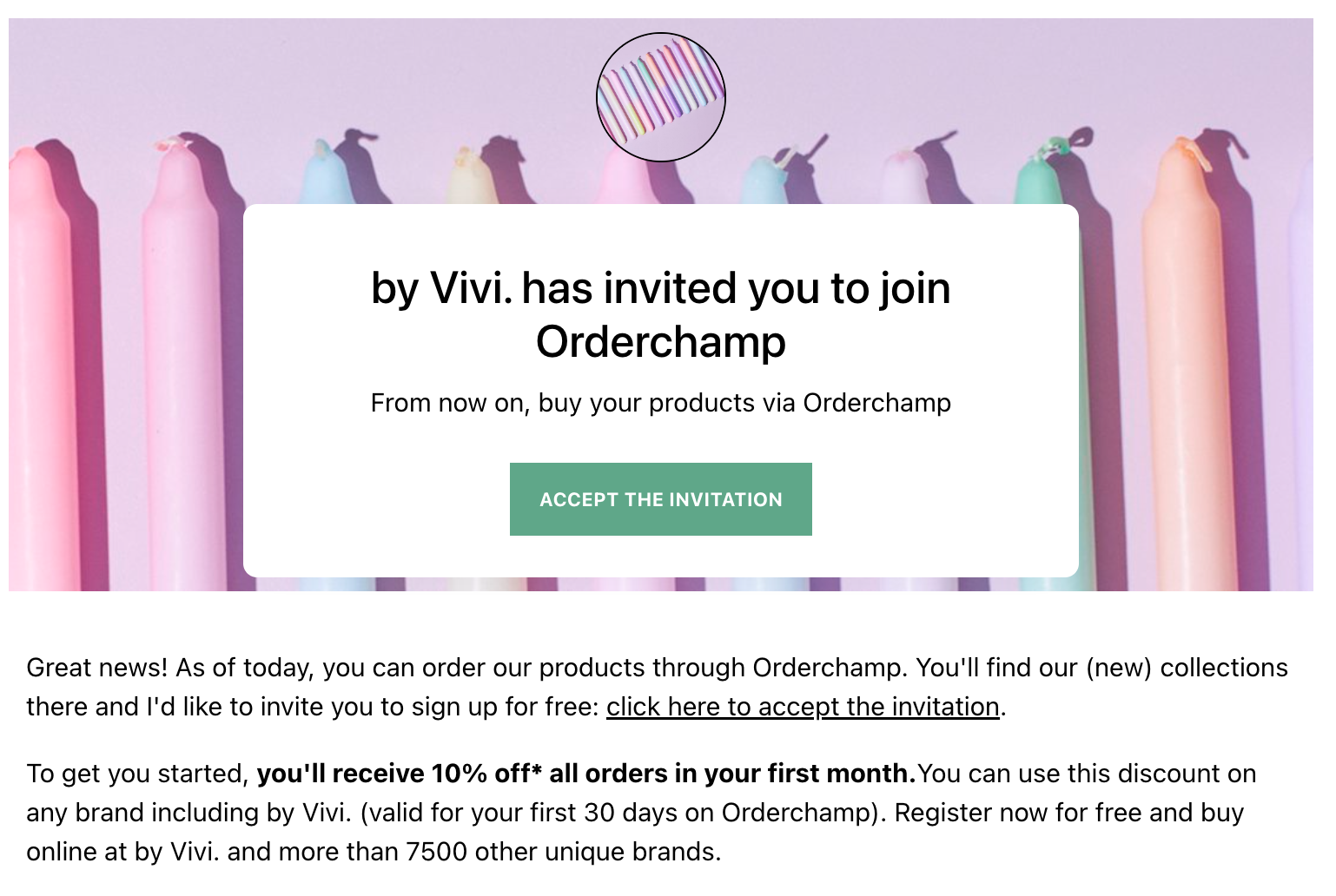 2. Embed your personal wholesale widget in your website
The wholesale widget for brands is an easy-to-embed tool that allows you to convert the traffic of your website into online sales.
You can add your Orderchamp widget wherever you want on your website; in the header, footer or dedicated landing page. After selecting the type of widget you want, you simply click on "copy code" or send it directly to your developer. It is important that you add it in different places, so you don't miss any opportunity to convert visitors into customers.
How to embed the widget: a step-by-step guide
Go to Invite your retailers in the back office and click on the widget tab

Choose between the 3 types of widgets to add to your website:
Standard banner

Small banner

Button
In the Widget Preview window next to the options, you can see what the widget will look like when embedded in your website.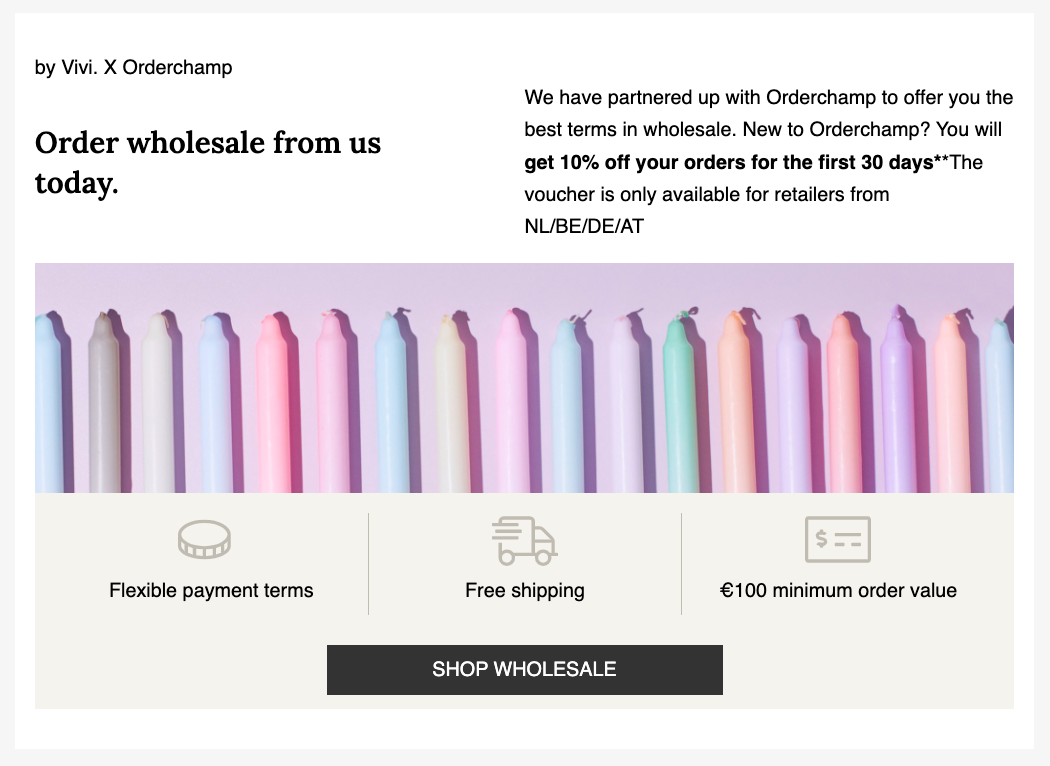 After selecting the type of widget, you simply click on "copy code" or send it directly to your developer.
3. Invite with your personal invite link

Your personal invite link is a customized link that can be used to invite and share with your customers via email, social media or on your own website etc. This link will lead your customers to a tailor made invite page, where they can sign up to Orderchamp and start purchasing from your brand with the same benefits as stated above.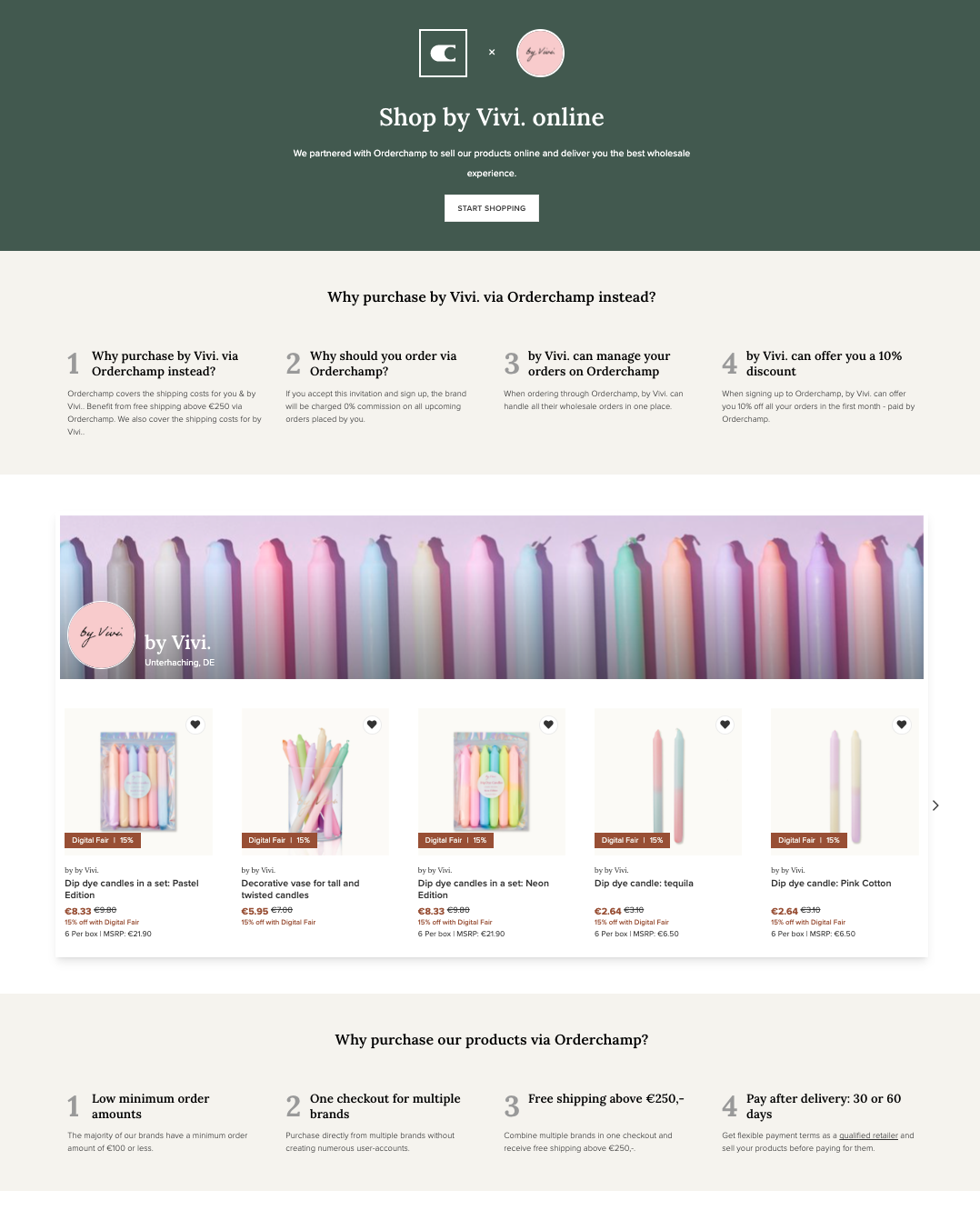 Visit your back office and either click on the "View personal invite page" button or scroll down the invite page and copy your link. Simply use your personal invite link from the storefront you wish to invite with and share it with your retailers using the channels you prefer.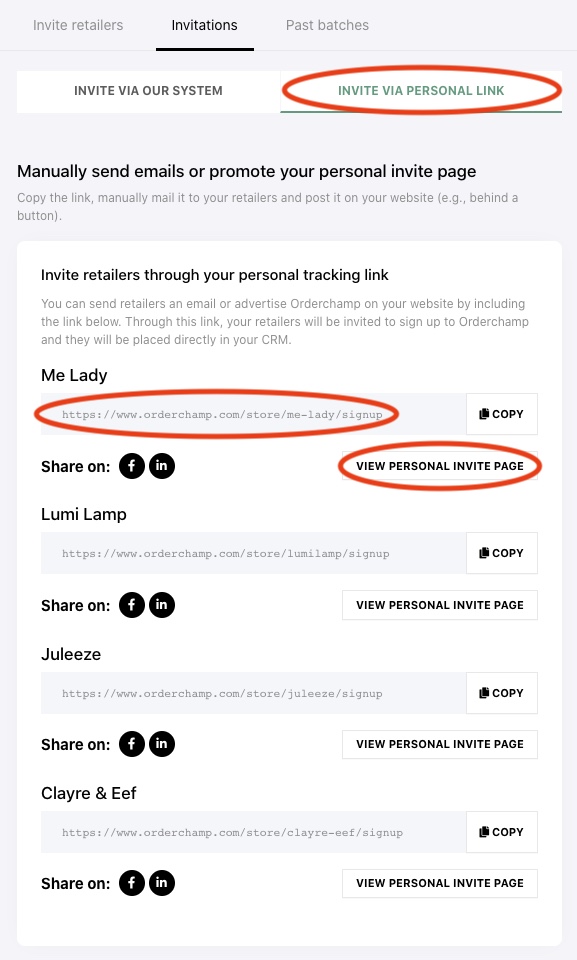 The invitation link customized for you can be used on many channels!
4. Use your personal promo code
Your personal invite code is a branded promotional code which your retailers will be able to use when signing-up on Orderchamp, or during their check-out. When using this code, your retailers get 10%* off on all their orders during their first month on Orderchamp.
You can manually mail this promotional code to your retailers, use it on your flyers, or even post it on your website.
*Only applicable for retailers from these countries: NL/BE/DE/AT
5. Invite Insights
Within the invites section in your back office, you can easily keep track of what retailers opened, clicked or engaged with your invitation and brand on our platform.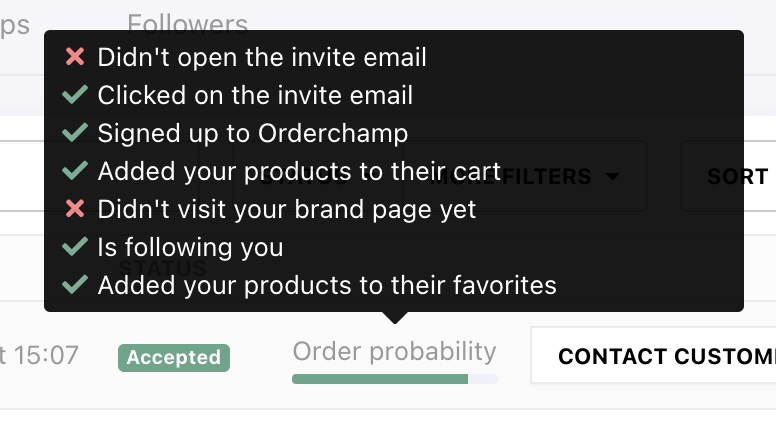 From our experience, following up on your invites by giving them a quick call always helps. If your customer can't find the email any more, simply resend it through the back office.
After you send a batch of invitations, you can track them by scrolling down in the back office and clicking on "view details" (see image).

You will see which invitations arrived or had a spelling error, which retailers are already on Orderchamp, and more.