Make sure you kickstart your Orderchamp partnership properly by inviting your retailers and offer them up to €100 shopping credit* to spend on their first order. If they order over €400, they will also receive free shipping as their purchase amount will exceed €250. Furthermore, retailers can qualify for our extended payment terms (up to 60 days) - we'll always guarantee your payout.
1. Why should I invite my own retailers?
You will pay 0% commission when you invite your customers. This way, you'll save on commission and get more out of the Orderchamp experience. If a retailer you invited (sent an invite from our platform) was already on Orderchamp before placing an order with you - you will still receive 0% for their orders.

For more detailed information about the commission fees and what happens when you don't invite retailers in time,

please read

this article.

You'll offer them a premium service. Your retailers will benefit from our awesome conditions, such as free shipping, flexible payment terms (up to 60 days) - all paid by us - and a great shopping experience while we guarantee your payouts;

You'll save on other expenses. Orderchamp automatically takes care of marketing to your retailers, generating re-orders for your business.

To generate more sales for your brand, you can offer your retailers up to €100* shopping credit on Orderchamp.
2. How does it work?
Inviting your retailers to Orderchamp can be done in two ways:
A) Invite through your backoffice
You can invite your retailers through your backoffice by adding your customers' email addresses in two ways: copy & paste all the email addresses manually (image 1) or upload a CSV file (image 2). If you have multiple storefronts, you have the option to select a storefront from which you want the emails to be sent from. We will send an email with the invitation to your customer and send reminders when invites are not accepted.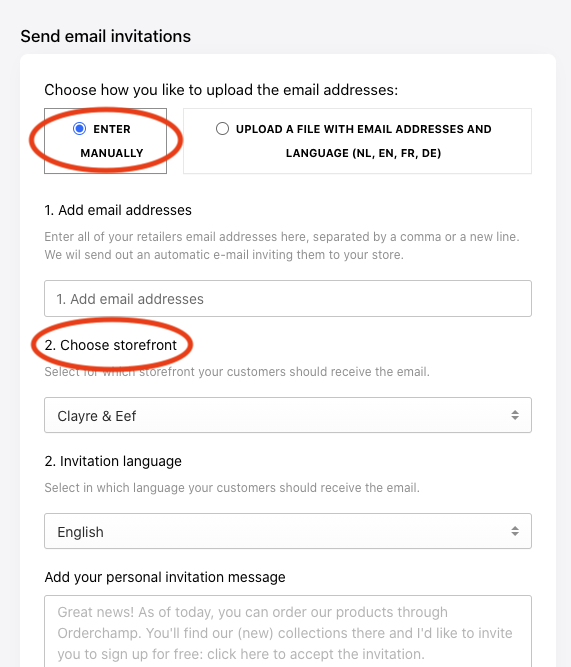 Choose to manually enter the email addresses.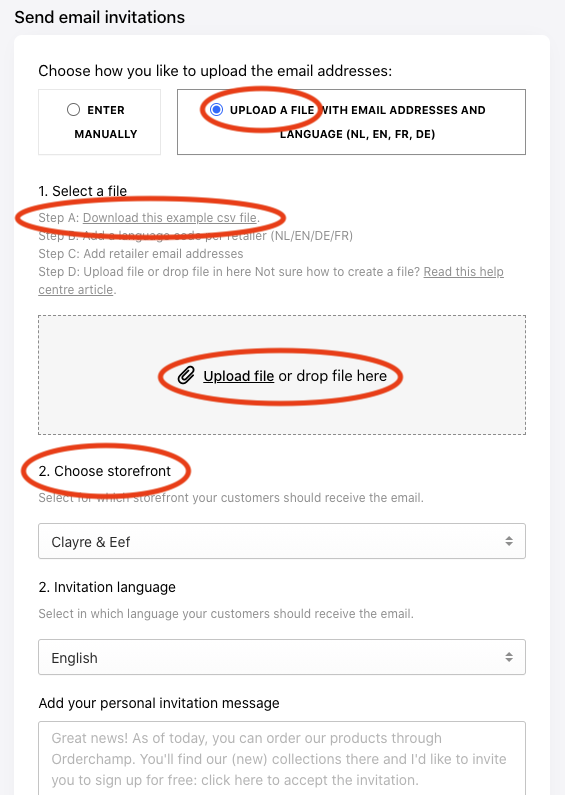 Choose to upload a CSV file.
If you want to upload the email addresses, please follow the steps from A to D under "Select a file", as can be seen in the image above. When you download the example csv file from Step A (see example below), you can fill in the sheet with your retailer's email addresses and their language code. In order to add more email addresses you need to add more rows. Please make sure you save the file as an CSV file. Once everything is filled in and saved properly, you can upload or drop the file in the foreseen field.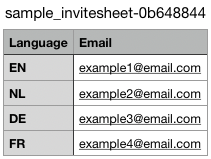 Example of invite sheet
You can also add your own text to our standardized email. Don't forget to follow up with your invited customers and give them a quick call. We know from experience that this will help. Visit your backoffice and start inviting your retailers.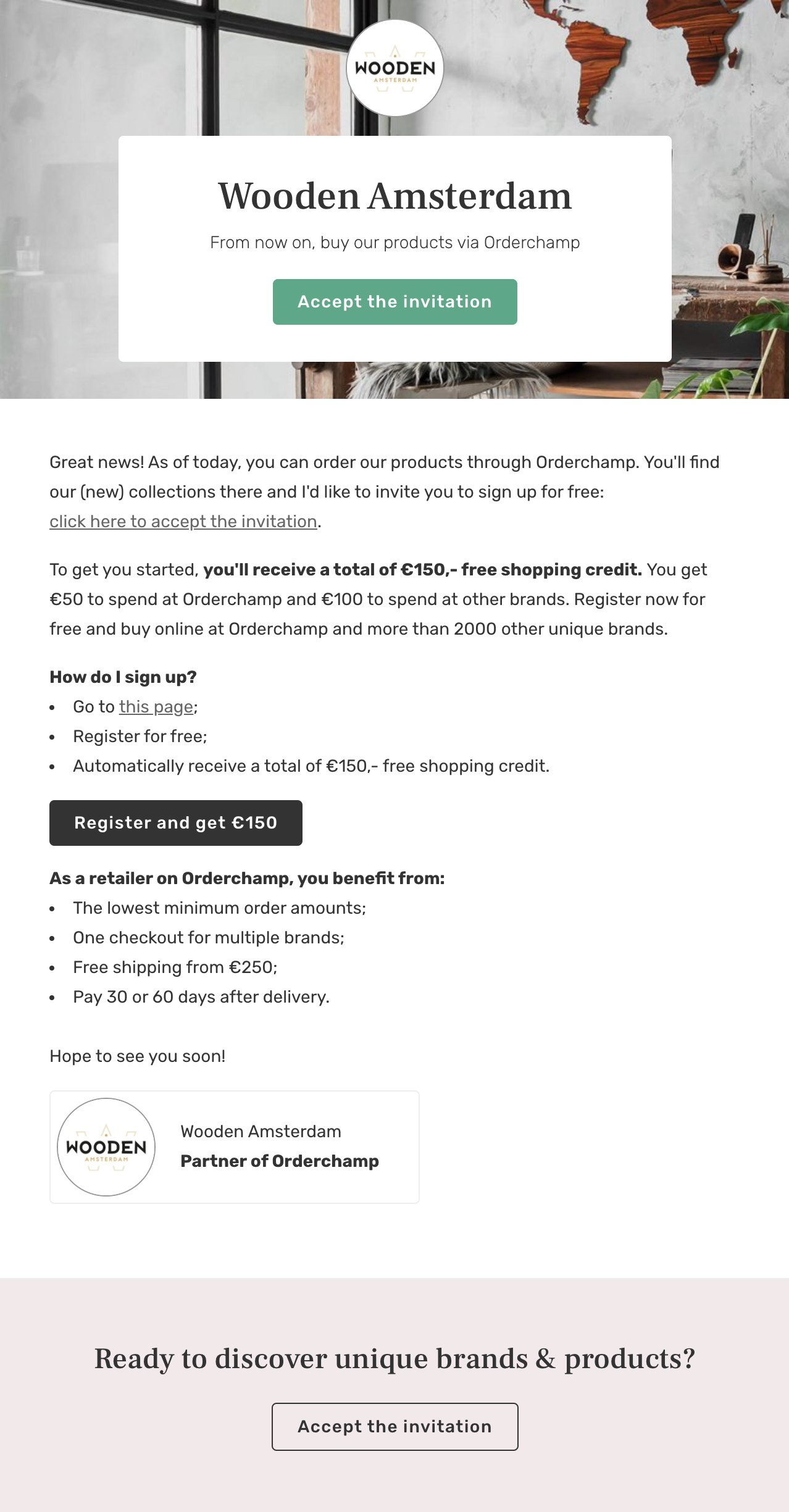 Example of the invitation email.
Invite Insights
Within our invite section in the backoffice, you can easily keep track of what retailers opened, clicked or engaged with your invitation and brand on our platform.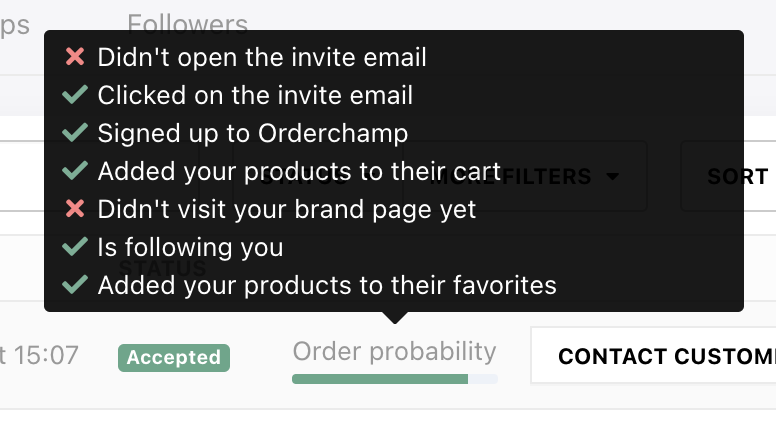 Invite insights
From our experience, following up on your invites by giving them a quick call always helps. If your customer can't find the email anymore, simply resend it through the backoffice.
After you send a batch of invitations, you can track them by scrolling down in the backoffice and clicking on "view details" (see image).

Invitation batch section
You will see which invitations arrived or had a spelling error, which retailers are already on Orderchamp, and more.

Invitation Batch Insights
B) Share your personal invite link
To personalize the onboarding of your retailers, we have prepared a unique referral page for your brand.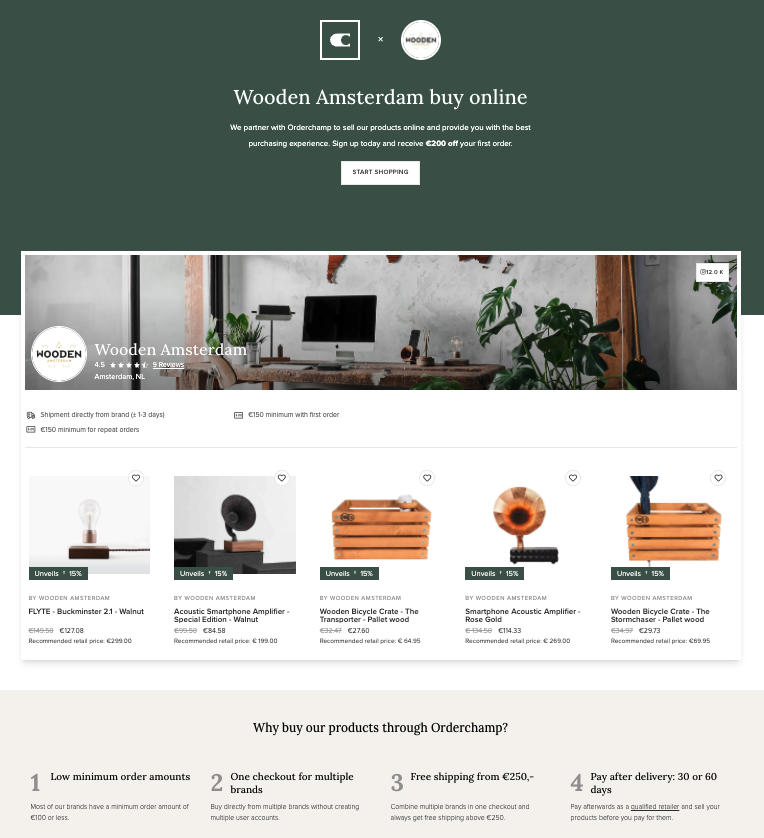 Example of a personal invite page
Visit your backoffice and either click on the "View personal invite page" button (see the image below) or scroll down the invite page and copy the link here (see the image below). Simply use your personal invite link from the storefront you wish to invite with and share it with your relations via email, social media or on your own website.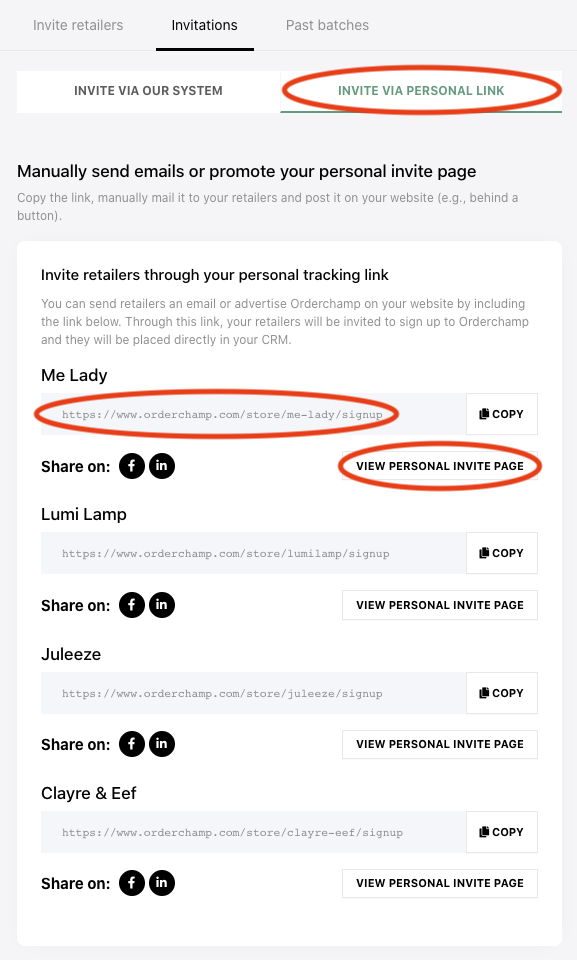 Where to find your personal invite page & link
You can also refer your retailers to Orderchamp on your website by placing your personal invite link on the b2b/reseller section on your brand website. Please read about referring your retailers through your website in this article.
What else can I use my personal invite link for?
The invitation link customized for you can be used beneficially on many channels, so you can conveniently give yourself and your customers great benefits:
as part of your email signature;
on social media like Instagram, Facebook, Pinterest & Co;
through Whatsapp messages;
And much more.
3. Do you need help?
Do you want us to help with inviting your customers? We are happy to do it for you. Just send an email to support@orderchamp.com or give us a call: +31(0) 20 308 08 08
4. Frequently Asked Questions
Why should I invite my customers?
When you invite your customers, you will pay 0% commission on orders from them.
Can I also invite retailers who already have an account at Orderchamp?
The referral program is designed to invite new retailers to Orderchamp. Read more here.
Who takes care of the costs of the shopping credit?
Orderchamp pays for the cost of the shopping credit.
What does 'own retailer' stand for?
Your own retailer is someone who has created an account via your personal invite link or e-mail.
If more brands invite the same retailer, will that retailer receive shopping credit multiple times?
A retailer can only use this promotion once.
What is the most convenient way to invite my retailers?
The best way of inviting your retailers would be to first use our system. And then send a follow-up email afterward to your customer base with the personal invite link. In our experience, this works the best.
*Only applicable for retailers from these countries: NL/BE/DE/AT