Please take a moment to review the storefront settings information outlined below prior to starting. We encourage you to use it as a reference when completing your storefront. If you need more clarification, feel free to respond to the email. Your Brand Partnerships Manager will work with you to help you get online within a few moments. .
Getting started
Step 1: Terms
The first step in the onboarding is accepting the Orderchamp Brand Policies and Terms of Service in your Backoffice at "Settings > Account information"

As a brand on Orderchamp, you agree to the following:

I agree to offer my complete (and newest) wholesale catalog on Orderchamp at the same prices as my other wholesale channel.

I agree to keep Orderchamp orders on Orderchamp

I agree and commit myself to the Orderchamp Quality and Service Policy

I understand and agree to Orderchamp Terms of Service and Brand Policies
Step 2: Setting up your storefront
Fill in your Storefront

Bring your story to life by sharing an at least 500 word story that shares your journey with Orderchamps retailers

Provide us with a short description of your brand (max. 100 words)

Upload a storefront logo [square]

Provide us, by clicking

here

, with an image for the banner of your storefront

Fill in Instagram & Facebook handle

Add general, atmospheric photos from your brand to the Photo Carousel (Carousel images must have a minimum height or width of 870px).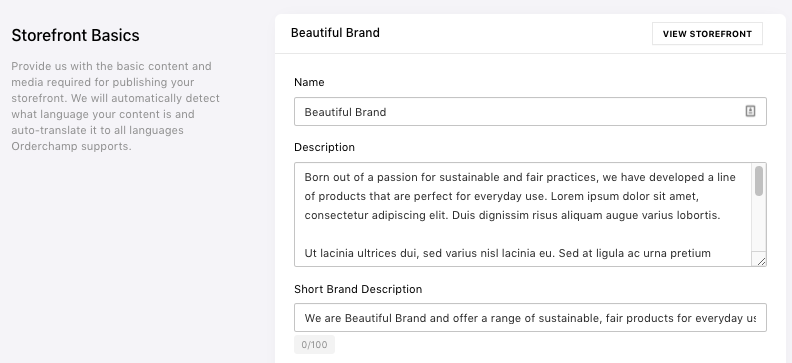 Fill in your General Settings

Account information

Company details

Main content language
Fill in your shipping details

Fill in your shipping zones

Fill in your shipping countries

Fill in your time to ship (lead time)

Upload your company logo and a footer image for a custom packaging slip option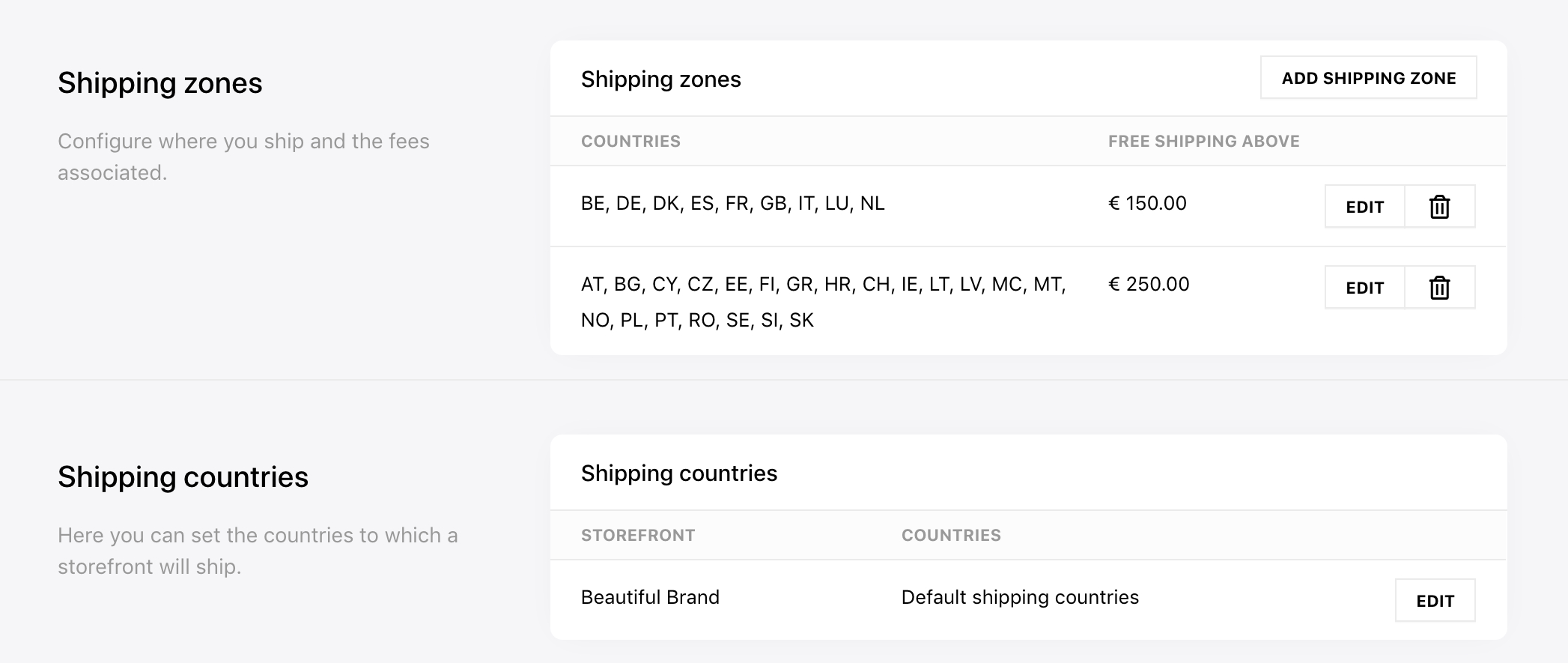 Payout information

Choose which bank account you'd like your payouts transferred to and follow the verification process by transferring 1 cent. Please mention the correct reference number (starts with RF) if you choose to verify through a manual bank transfer.
Step 3: Provide us with your catalog & images
Set up a catalog and stock connection with your own B2B portal or webshop software, connect with our open API, or

send us

a CSV file with your catalog and the required product information (see below).
Step 4: Invite your own retailers, Orderchamp brand referral program
Invite your retailers and they will automatically receive up to €100 shopping credit* (if they are new to Orderchamp). Your retailers will also benefit from our free shipping initiatives and can qualify for our flexible payment terms (up to 60 days) - we'll always guarantee your payout.

You pay 0% commission on orders from all the invited retailers signing up within 3 months of being invited by you. Otherwise a discounted 6% to cover our operational costs.
For orders from your invited retailers that were already registered to Orderchamp, or any of Orderchamp's partners, you will benefit from a discounted 6% commission

Step 5: Setting up specific customer pricing groups + promotions
Create customer groups at "CRM > Customer groups"

Go to Discounts in the admin and set up your specific customer pricing.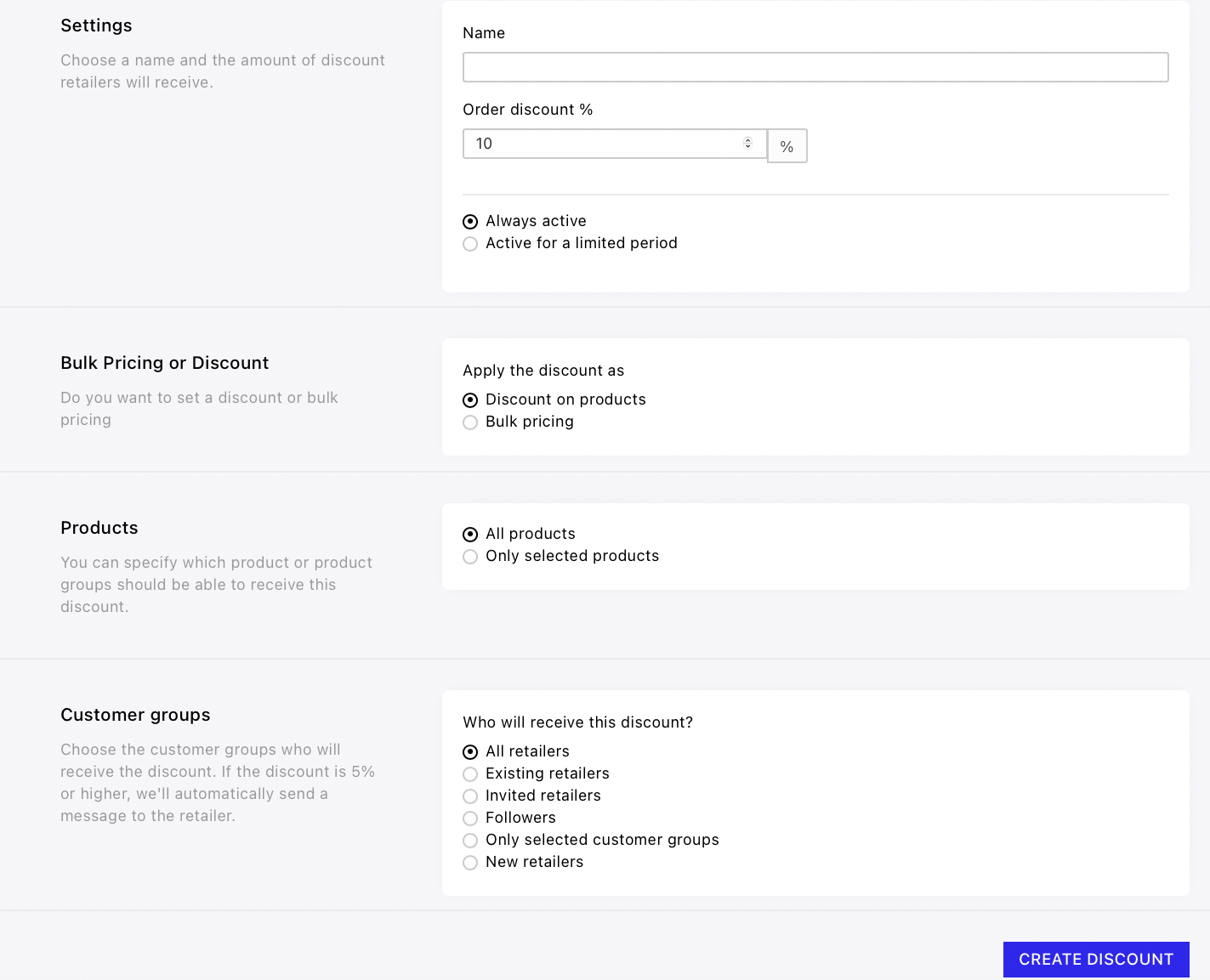 Required product information
Product ID

The product code, should be the same for the products with the same variants

Product Title

The name of the product, which will be shown in your storefront

Variants per product

Each row should be a unique variant. In the column headers you can specify what kind of variant it contains, for example: "Option:Size"

Brand

The brand of the product;

Case quantity

The minimum quantity of your product that should be purchased

Price

The B2B/wholesale price. This is the price retailer will pay for your product to purchase. The wholesale price is excluding taxes and is formatted with a decimal period and no currency sign (i.e. 14.95)

MSRP (Manufacturer Suggested Retail Price)

The Recommended Retail Price. What the retailer should charge the customer for this product. The MSRP is including taxes and is formatted with a decimal period and no currency sign (i.e. 14.95).

Inventory

Inventory or Stock level (Required if Inventory policy is set to "deny")

Inventory policy

The options for your Inventory policy are "Continue" and "Deny". "Continue" means the product can still be ordered, even when the stock level is 0. If you only want to sell that product when it's in stock, the policy should be set to "Deny". When the stock level reaches 0, the product will be marked as sold out.

SKU

The Stock Keeping Unit, which is a product code and unique per product variant

Weight

Mention the weight of your product.

Materials

Same for the materials, such as "cotton, concrete, wood, polyester".

Made in

Where does your product come from? Provide us with the country of origin with the

two letter land code

, such as "NL, TR, CN, IN, IT".

Values

If your product deserves an extra label, to search for example, you can assign a value. Only do this if it actually meets the requirements, for example " Handmade, Eco Friendly, Organic, Social Good etc.".

Tax level

the VAT percentage that should be charged: High or Low. It differs per country what the exact percentages are.

Categories

Note: you can't add your own categories to Orderchamp. We offer a select amount of categories and subcategories. You can find the whole list of categories in your back office > Import & Export > "Available Categories".

Images

If you'd like to import the images in bulk, you need to include the image URL(s) in the file. If you don't have the URLs, you can import the file without them and add the images manually after import.

Description

Provide a clear and attractive description of your product, containing a minimum of 25 characters

Dimensions

Provide us with the dimensions by adding a separate column for length, width, height, diameter (in cm) and/or volume (in liters).
For an example of the import file, go to your back office > Import & Export > Product Sheet Example. When clicking this button, a .csv file will be downloaded to your computer.
*Only applicable for retailers from these countries: NL/BE/DE/AT