Once you've accepted an order you can proceed to the shipment of the order. First, check if you can fit all items in one parcel. If not, you can make multiple shipments and indicate what products go into what shipment (by setting the products that are not in this shipment on 0). This is also highly recommended when the total of the order is above 31kg. In the same step, fill in the estimated weight of the parcel.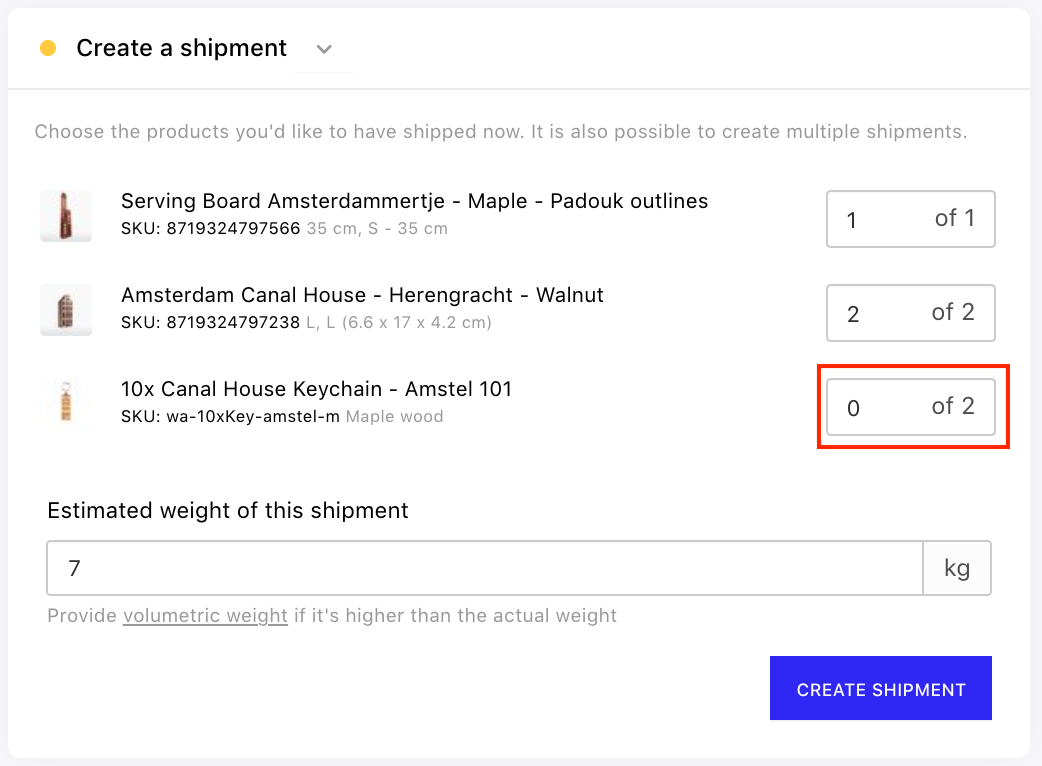 After creating the shipment, you can choose your preferred shipping method: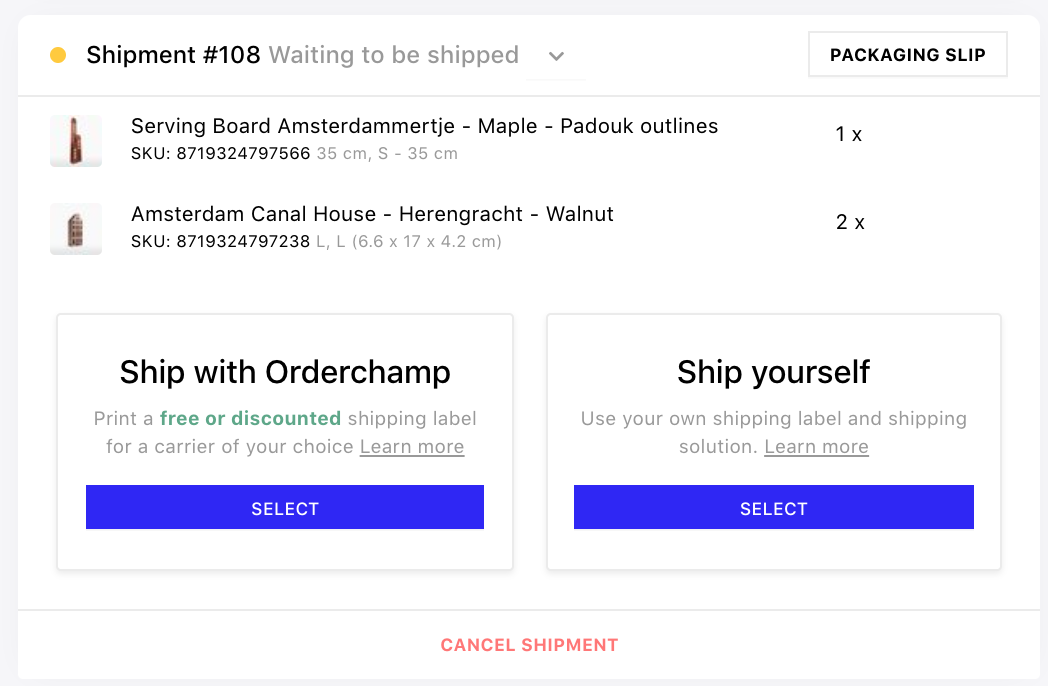 Ship with Orderchamp
The Ship with Orderchamp* method allows you to print a free or strongly discounted shipping label straight from your back office. Benefit from our pre-paid shipping services, where we have negotiated the best shipping prices per carrier. The costs and tracking of the shipment are automatically taken care of.
* Only available in Germany, France, Belgium and the Netherlands
Choose "Ship with Orderchamp" as your shipping method.

Choose your carrier.

Print your shipping label

(valid for 7 days).

Send the shipment to the retailer.
We recommend to use the shipping label within 7 days of creating it or you might be charged with additional costs.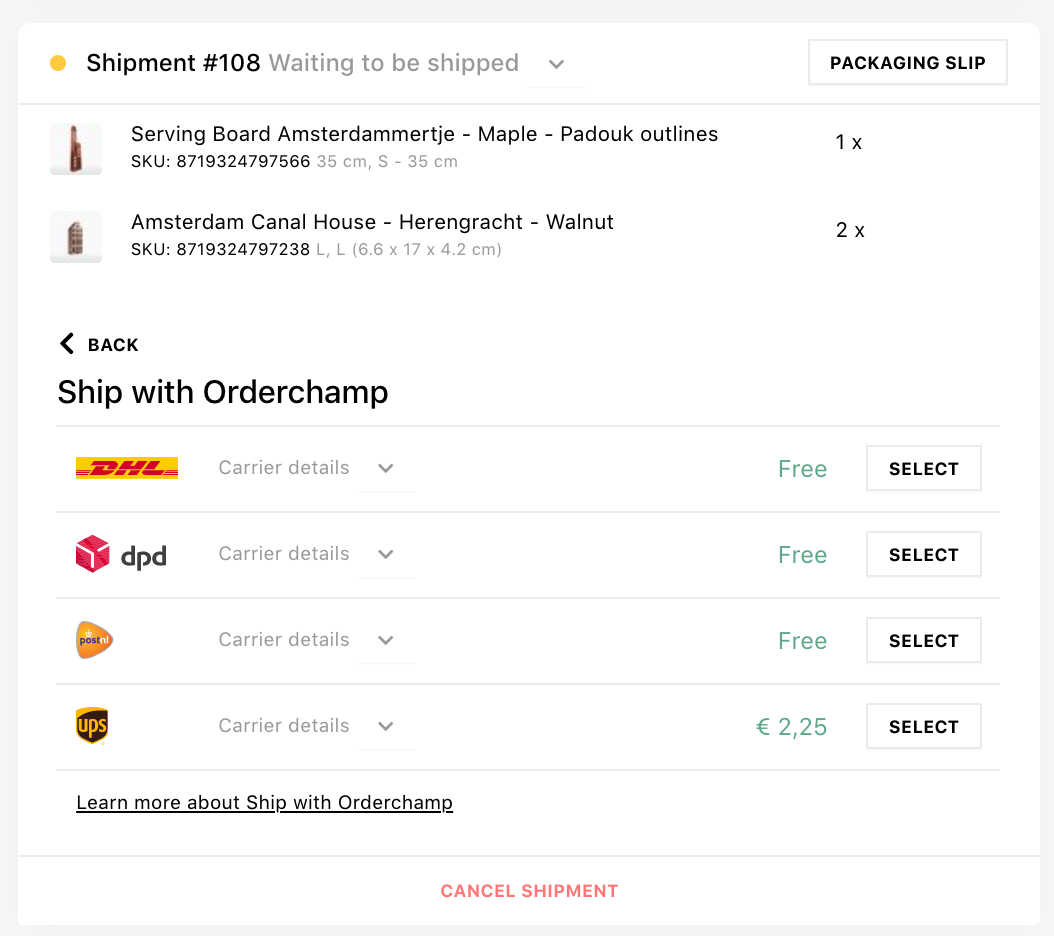 Ship with Orderchamp: Choose a carrier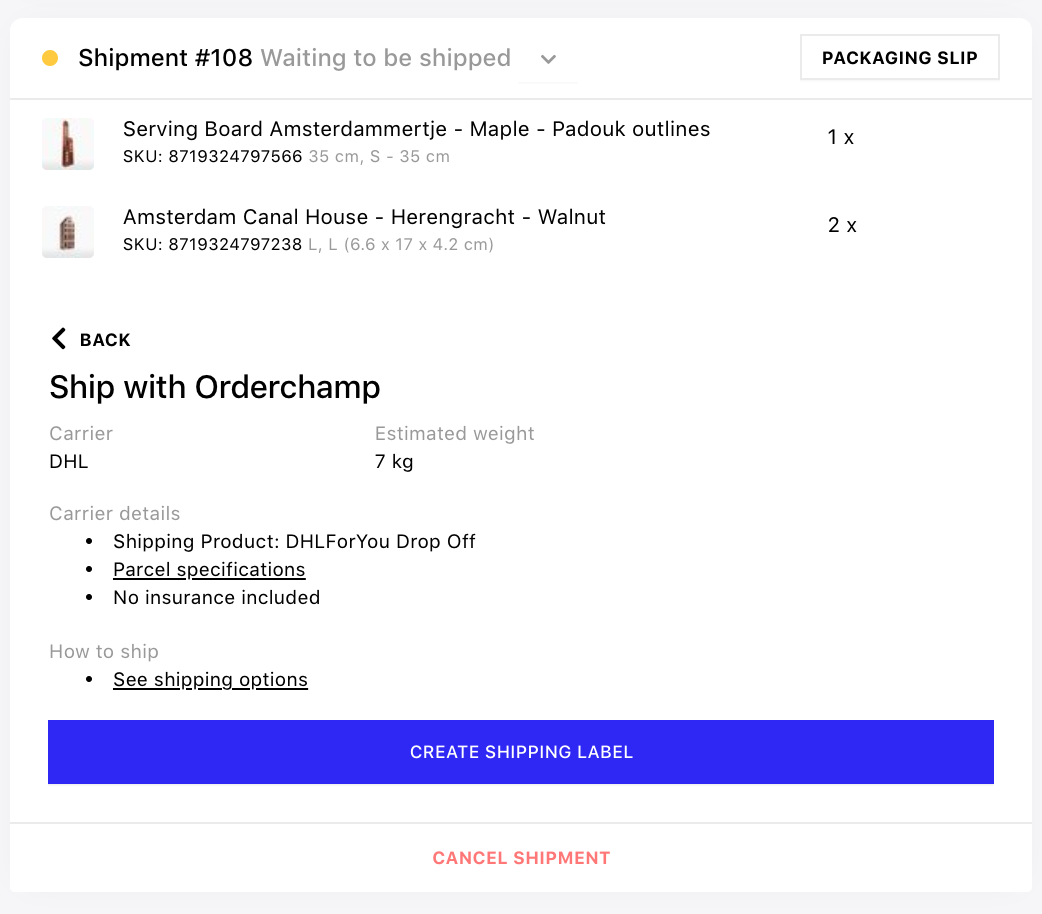 Ship with Orderchamp: Specifications & Print shipping label
Ship Yourself
This method allows you to handle your shipment yourself. Select your own carrier for your order and add the tracking number in the back office once this is available. Based on the weight provided with the Track & Trace, we automatically determine the shipping compensation fee based on the route and the provided estimated weight. The estimated weight will automatically be updated based on Track & Trace data.
Choose "Ship Yourself" as your shipping method

Get a shipping label from your own preferred carrier.

Send the shipment to the retailer

Fill in the tracking number in Orderchamp

The shipping compensation fee is included in your payout
For countries outside of France, Germany, Belgium and the Netherlands we maintain a shipping compensation of 5% of the subtotal order value.
Objecting a shipping compensation
If you don't agree with the calculated shipping compensation you can object to the compensation by uploading proof with the actual cost of the shipping. This option is available in the compensation information pop-up after a weight is set. Only deviation above 30% will be reviewed. Our customer service team will review the objection and either grant or deny your objection.