What does the status of my order mean?
Lead times
To help set expectations, we provide the average lead time per brand. You can find the lead time in the brand's storefront.

Tracking my order
After a brand has accepted your order, you will receive an email with a tracking number. This tracking number will also be available in your "orders" tab in your profile when available (in the specific order).

Awaiting payment
Before a brand can accept and fulfill your order the payment of the order has to be completed. The average lead time (see above for the explanation) will start when the payment is confirmed by our payment provider.
There are two options within the status awaiting payment:
payment has been completed via a bank transfer (SEPA) and has not yet been confirmed paid by our payment provider.

payment has not been completed (e.g. Ideal, Bancontact, Sofort, credit card, bank transfer). Please complete the payment in your order by clicking the green 'Pay'-button.

Awaiting confirmation
You've placed your order and the order is paid. Now it's up to the brand to confirm the order. The brand has 48h to confirm a new order.
Awaiting fulfillment
The order is placed, paid and confirmed by the brand. The order will be fulfilled within the lead time by the brand. When the order is fulfilled you will receive an email once the order has been (partially) shipped.
Awaiting delivery
The order is placed, paid, confirmed and fulfilled. There will be a tracking number available in your "orders" tab in your profile when available (in the specific order).
Once the order is delivered you will check if everything is in order. When everything is in order then you can complete the order.

When an issue occurs, report without any delay (within 4 working days upon planned or actual arrival) the issue to Orderchamp through our order feedback functionality. Any issues related to:
Non-delivery of goods

Defective goods

Damaged goods

Counterfeit goods

Misrepresentation of goods

Wrong goods delivered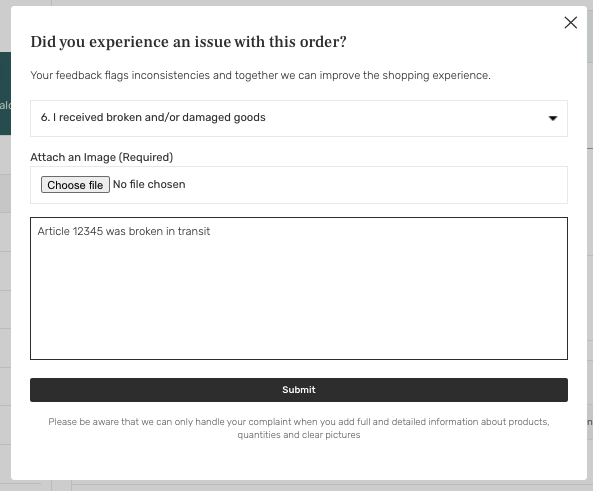 Completed
The order has been delivered, checked for any issues, and you've completed the order, the order process is completed and final.