How to add certain values to your products?
Sustainability has gotten increasingly more important over the years. Consequently, consumers focus more and more on corporate accountability and adapt their buying choices accordingly. By carrying values, a brand can openly and proudly show in which ways they are CSR-friendly. At Orderchamp, we want to facilitate the connection between sustainable retailers and brands by offering a broad range of values representing corporate social responsibility.
What are values?
Values showcase in which ways a brand holds itself and its stakeholders socially accountable. These values can enforce environmental, ethical or economic responsibility. Below, you can find all the values that Orderchamp carries and that you can attribute to your products. This gives retailers a better idea of which brands they are buying their products from and guarantees more conscious buying choices. Our filters allow retailers to easily discover products based on specific values.
Here are all product values available at Orderchamp:
Handmade : Products that were made by hand

Fairtrade : Guarantees that the producers of the product were paid fair prices

Organic : Products that were produced without the use of chemical fertilizers or pesticides

Social Good

(New)

:

Products that have a positive societal impact on the communities, employees and NGOs that are endorsed by the brand

Zero Waste

(New)

: Products with minimal or compostable packaging

Cruelty Free

(New)

:

Products that were not tested on animals

Natural Materials / Ingredients

(New)

:

Products that contain natural materials / ingredients

Vegan

(New)

: Products that don't contain ingredients derived from animals

Non Toxic

(New)

:

Products that don't contain toxic ingredients such as BPA or PVC

Recycled Materials

(New)

: Products that are made out of recycled materials
What is changing?
By adding the aforementioned values, we intend to remove the umbrella term "eco-friendly". This ensures a more specific communication of the values each brand carries. We incentivize you to migrate the values that correspond to your brand yourself. The "eco-friendly" value will be deleted on the 31st of October. All other values besides "eco-friendly" will remain attributed to your products.
How to add these values to your products: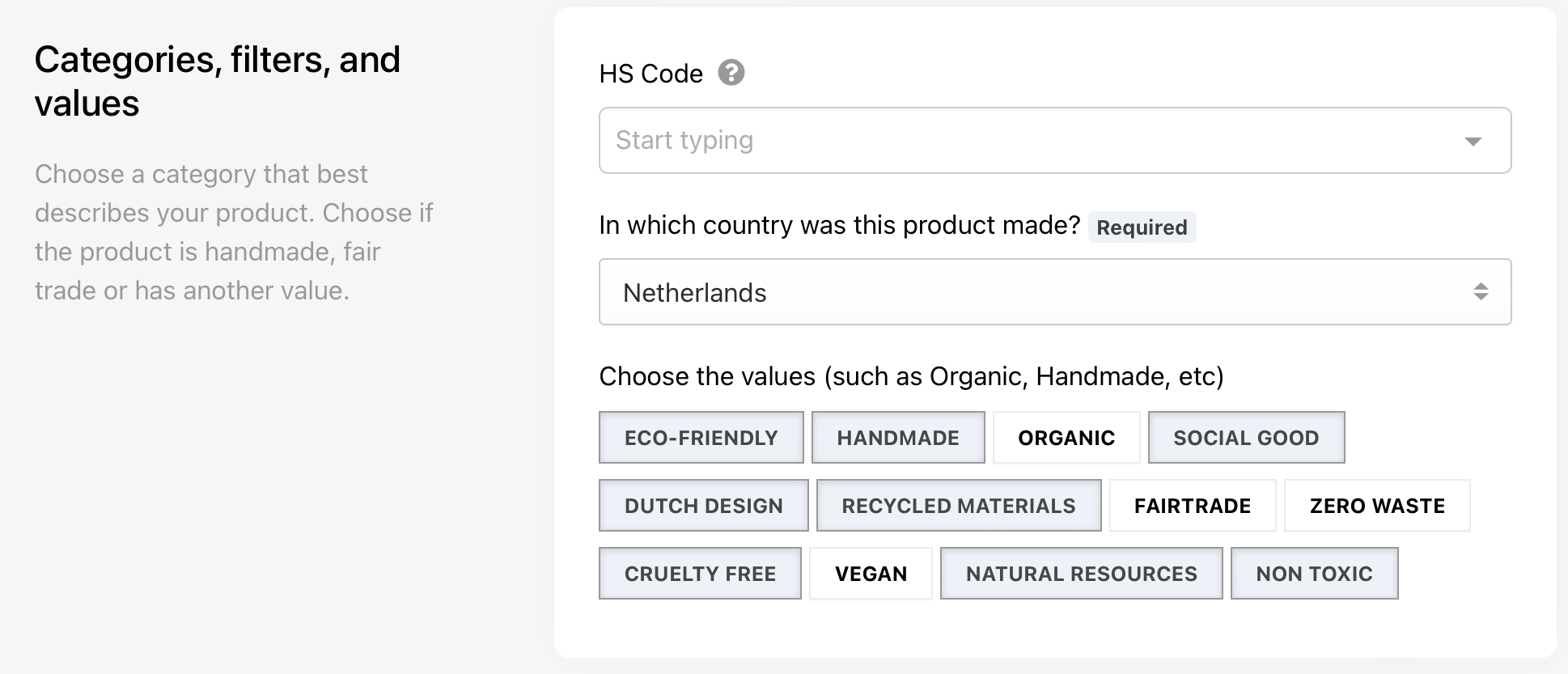 Also read: